No siree, Bob. Not me. The truth is that a dip in the pool has sounded really, really good several times over the past couple of weeks. But, as soon as I'd walk through the front door and the air conditioned, cool air hit me, I lost all interest in going back outside!
So, I just worked until I felt like I couldn't afford to sweat any more (yes, in this case "perspired" wouldn't even come close to describing the sweating I did in our triple digit weather!).
I have a couple of things going, but I'm going to show you the one I'm closest to finishing. Just a couple more knobs and it's ready to be delivered. This is a dresser/armoire that a friend needed to fit into a narrow, not too deep niche in her bedroom. She's run out of room and wanted something to store the things they don't use very often. So, this is about 14" deep x 37" wide x 83" tall.
I'm always surprised at the cost for lumber to make anything, but especially when it's for something this large. I have a better understanding of Don's dilemma when he was bidding jobs - it just seems like too much money! So, for this I used Pure Bond birch plywood for the parts that you see - sides, doors and drawers. And, then I used a pretty rough plywood for the interior dividers. I ripped poplar to trim all the edges, so you can't tell at all, and the rougher stuff was 50% of the cost of the birch plywood!
It doesn't look like much right here, does it?
My friend wanted drawers - all the way to the top of this thing! Even though she assured me that she was just going to store stuff she wouldn't need very often (if at all) in those upper drawers, and that she'd get a ladder to get into them, I just could not build it like that! So, because I'm a bit stubborn, and want to do things my way, their cabinet will have 4 drawers and an upper cabinet area with a middle shelf, behind doors they can open to access whatever they store in there! I sure hope they're happy with that!
I wanted it to be close in style to the furniture they have so I added some pretty trim to the BIG drawers.
And, pretty soon it looked like this! (not the best picture...) It was tall to begin with, then I decided to add some crown moulding - I managed to get the miters cut, just don't ask me how! Upside down and backwards - I'd heard Don tell someone that's how you cut crown. That's what I did, but I still can't figure out why or how it worked!
Fitting doors and drawers into the openings, flush, like these are, isn't as easy as it is to make the doors and drawers with overlays. But, the furniture they have fits flush, so that's what I did with this. I know my friend will read this so I probably shouldn't say this, but those doors are not perfect! They open and close, but I think the wood was a bit warped, and as I said, this isn't perfectly square. I messed with them, and messed with them some more, then I came back the next day and messed with them again. Finally, I reminded myself that I am not a pro, and I knew that if I kept at it I would probably make them worse! They work, and they are what they are - I hope the flaws can be overlooked! My friends are close to my age so I'm hoping that their vision is as poor as mine and that they won't even notice the imperfections! When I was sewing for my kids, everything I ever made ended up having blood specs on it (and more often than not, straight pins still in the seams). The girls actually started looking for those little spots of blood and would remind their kids that was proof that it was made by Grandma with lots of love just for them! Maybe my friends will embrace the imperfections in that same way - proof that this was made with love, just for them!
Here it is with most of the knobs.
And, up a bit closer so you can see the pretty stain (Minwax Walnut Stain) . The color is actually somewhere between what you see on the drawers and in the side view of the cabinet. It's a really pretty color. I have to say that this stain job went much better than my last one - Thank God! It's still not as good as Don would have done, but since I'm not a pro, and don't even pretend to be, I'm can't be too concerned about it! I'd just drive myself crazy and this is supposed to be fun!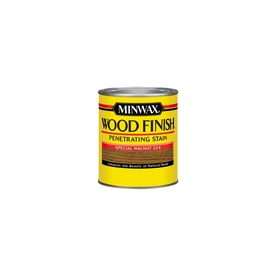 It's going to be delivered next week and maybe I'll get a picture of it in place. If I do, I'll be sure to post it here for you to see. For now, it's nice to see it standing tall, and finished, in my garage!